CHICAGO HIGH
From the 14/08, pre-order and be the first to get the new eau de parfum
Official Launch on September 1st, 2020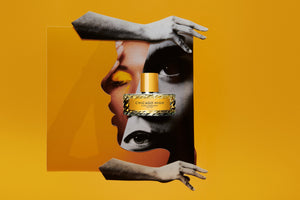 Jan's Quote
❝ I wanted to express the idea that there were hidden depths to the effervescent yet soon vanished glamour of the Roaring Twenties. A rhyme and reason for such luxurious pursuits, not just a decadence of society. ❞
1920'S Bottled
Top : Champagne, Pineapple, Bergamot
Middle : Honey, Tabaco
Base : Leather, Patchouli, Amber
A radically contemporary classic
Chicago High is a sparkling cocktail of champagne and pineapple infused with honey and tobacco that leaves a leather, patchouli ambre whisper behind, like the sultry, smoky memory of a most excellent night of revelry.
Structured like early 20th century perfumes
Chicago High takes you away for a party at Jay Gatsby's mansion. Dresses are incredible; champagne is flowing; the spirits are high. It's the wild celebration that defined an era of utmost extravagance, the peak of the 1920s – bottled.